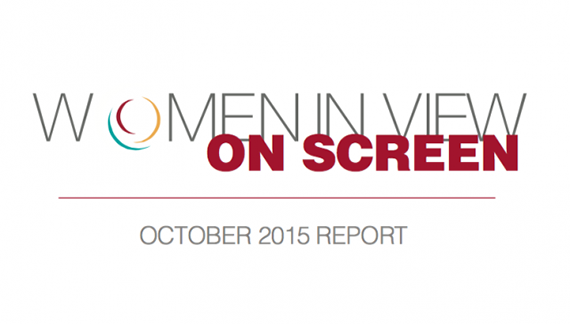 October 21, 2021 – St. John's – Women remain significantly under-represented in key creative roles in Canadian film, television and web series production despite the talent, ability and aspiration of Canadian women working in the industry, according to a new report released today by Women in View (WIV) at the St. John's International Women's Film Festival.
In addition to building on previous data collected from Canada Media Fund and Telefilm Canada, Women in View On Screen 2015 includes important new research shedding light on women's employment in web series and as actors.
"What's most disappointing is that since we started tracking these statistics, the situation has barely improved at all," said WIV Executive Director and report author Rina Fraticelli. "We have even expanded our research to include web series, hoping that – since we know that women are better represented in lower-budget production – we would see an increase in participation of women there. Sadly, we find the same patterns replicating themselves in web production."
The expanded analysis comes thanks to a new partnership with several key industry stakeholders who provided funding and/or data that was previously unavailable. Key partners include: Telefilm Canada, the Ontario Media Development Corporation, the Canada Media Fund, the Canadian Media Producers Association BC Producers' Branch and ACTRA National.
"The numbers speak for themselves," added Noreen Golfman, Chair of the St. John's International Women's Film Festival, "The vast majority of our storytellers in the screen-based media are male, and the stories they are telling tend to involve a preponderance of male roles. While research in the United States shows similar statistics, Canada has an opportunity to show leadership and ensure equity in access to these jobs."
Key findings include:
Women are underrepresented in senior creative roles in film, television and now web series production.
The disparity becomes even more pronounced when considering the budget levels of productions.
Women were more equitably represented in films whose level of investment – and by implication, overall budget size – was lower. Conversely, the higher the investment level, the fewer women were employed.
However, the report found that in spite of significant differences of scale, structure, and budget between legacy and web series, similar employment patterns prevail. Of 45 directors engaged in these series, 39 (87%) were men and 6 (13%) were women.
For the first time – with new data available – the report also found that the number of male vs female leading roles was directly linked to the gender of the content creators.
For example, since women screenwriters are significantly outnumbered by their male counterparts, there is a preponderance of male leading-roles for actors.
Download the Women In View 'On Screen' 2015 Report
Media Inquiries: Marit Stiles 416-417-9689