FOR IMMEDIATE RELEASE: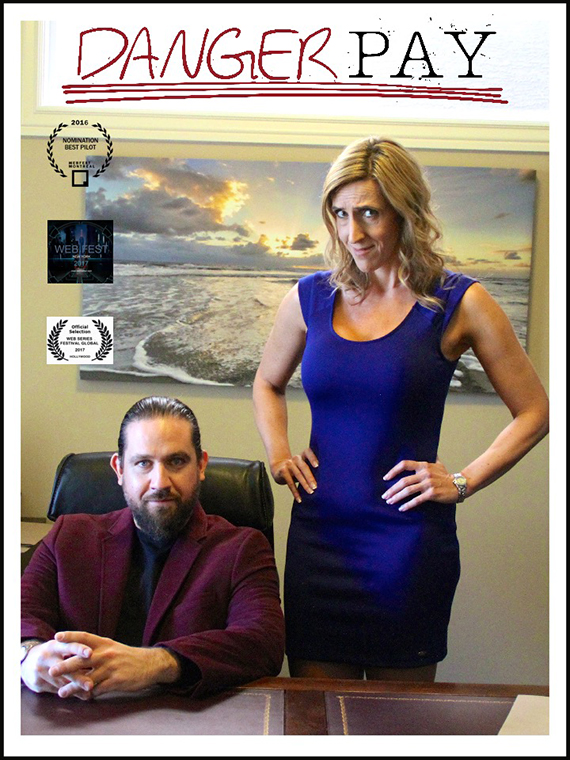 Calgary, AB – February 21, 2021 – The Producers of the comedy web-series, Danger Pay, have green-lit the filming of Season 2 of their critically acclaimed original series.
"We are elated at the response we received for Season 1", said Producer Carolyn Bridget Kennedy. Danger Pay was nominated 2016 Best Pilot by WebFest Montreal, was selected for Web Fest New York 2017, and is an Official Selection at Web Series Festival Global Hollywood 2017.  The series was also mentioned by Tubefilter, a leading reviewer of online video, as an under-the-radar series to check out. "I can't wait to bring more episodes to life. I think people relate to a character who is convinced that they are the only sane person in the room", said Kennedy, who is also the creator, writer, and stars as one of the lead characters in the series.
Danger Pay is an episodic comedy series about a paralegal, Michelle, who accepts a job that pays more than usual to work for a bizarre lawyer, Woodrow (played by Brent McIntosh), a narcissistic man-child.  Michelle endures his antics so that she can afford to pursue her dreams.  Kennedy did not want to give too much away about what is to come but said, "You can expect Michelle to be put into more awkward and uncomfortable situations by her boss, just as in Season 1. We might also learn a bit more about Michelle and her back story as well as introduce some new characters."
Filming of 6 episodes will take place in May 2017.  In addition to her roles as creator, writer, actor and producer on the project, Kennedy intends to direct some of the scenes in this season's shoot.
You can find the series on its YouTube channel: www.youtube.com/dangerpayseries   It is also on Will Ferrell's comedy website Funny or Die: www.funnyordie.com/carolynbridgetkennedy
Contact:
Richard J. McRae
[email protected]
Calgary, Alberta
Ph: 403-861-6286